My journey so far…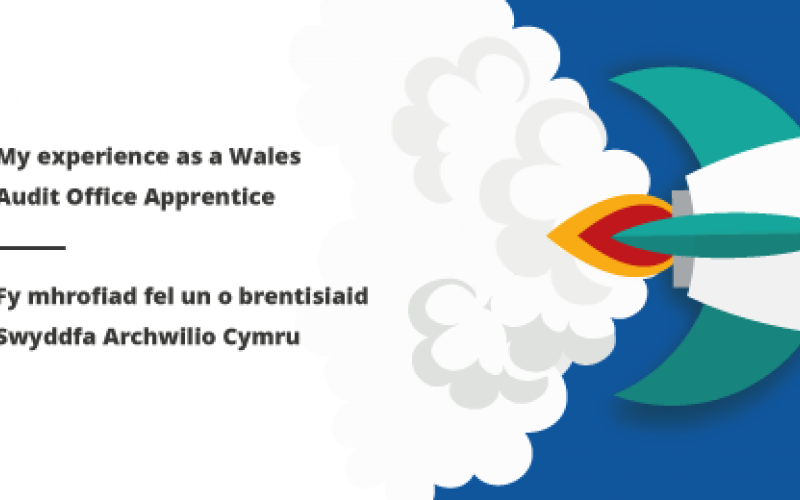 As part of our recruitment campaign, we have asked a few of our apprentices to blog about what it is like to be an apprentice at the Wales Audit Office. Here Emma Thomas talks about her first year.
To find out more and to apply, please visit our website.
My name is Emma and I'm a first-year Financial Audit Apprentice at the Wales Audit Office. A year ago, I was coming to the end of my Marketing internship at a Caerphilly-based Housing Association. If you had told me then I would have passed three exams in an accountancy qualification within the next year, I wouldn't have believed you.
I started my degree in Education with the path ending at a PGCE and becoming a primary school teacher. However, after spending a lot of my time in many different school placements over the years I decided that teaching wasn't for me, but I still loved education and wanted to look at other careers that would allow me to continue educating myself and where I'd have scope to learn new things.
After I finished my Education degree, I got an internship as a Communications Assistant in a Caerphilly-based housing association, using my skills in academic writing and my enjoyment in meeting new people. However, after my internship finished I realised that wasn't the career for me. During my time at the company I decided to investigate other careers and sectors within the business such as HR, Development and Finance. It was during my time in Finance where I was introduced to what they do, the different areas within it and understanding the auditing of a company that made me what to pursue a career in this sector. This is how I ended up applying for the Wales Audit Office Apprenticeship Scheme 2018 cohort.
The Apprenticeship Scheme is a three-year programme, seeing you progress from level 2 AAT up to a level 4 AAT qualification with scope at the end of the programme to move onto the trainee scheme at the Wales Audit Office. I decided to take this route rather than the well-established Wales Audit Office trainee route, because I felt it was important coming from a background where I had little knowledge of the auditing or accountancy world to become an expert in the basics and grow from there.
Personally, I really recommend doing an apprenticeship. Its been a great experience so far and has allowed me to have hands-on experience in auditing local authorities and NHS boards and benefitting from a day release every week to a local college to study AAT. What more could you ask for!
The Wales Audit Office is a great place to begin your career, it has a really welcoming working environment – it's comfortable and friendly. Development and your wellbeing are really cared about and taken seriously, for example I and the other apprentices struggled with formulas on Microsoft Excel. We conveyed this information and within the month we had a two-day Excel training course booked for us. This apprenticeship is by far one of the best and most valuable opportunities I've ever had.
About the Author

Emma Thomas is a first-year Financial Audit apprentice at the Wales Audit Office.