My experience as a Wales Audit Office Apprentice
My experience as a Wales Audit Office Apprentice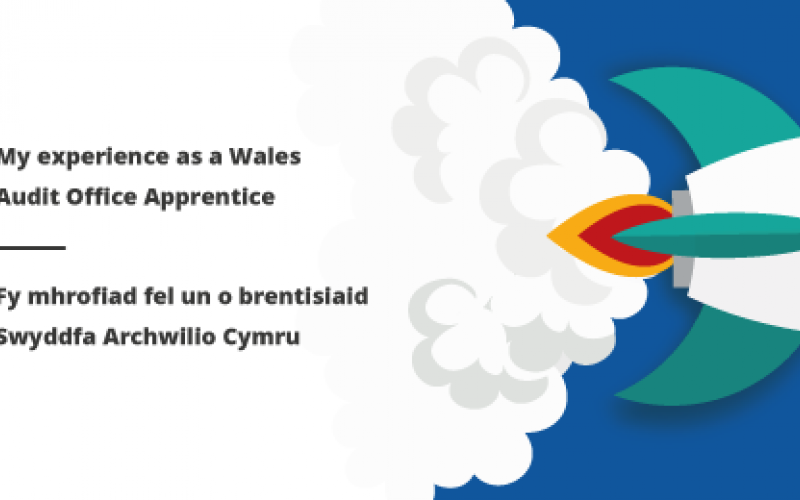 As part of our recruitment campaign, we have asked some of our Apprentices to blog about what it is like to be an apprentice at the Wales Audit Office. Here Lewis Ball talks about his experience so far…
To find out more and to apply, please visit our website.
An apprenticeship at the Wales Audit Office offers a great career opportunity in Accounting without needing to go to University. University is not for everyone, this apprenticeship gives a pathway for those who want to progress into a career whilst learning on the job.
During the three years of the apprenticeship you will be studying to achieve qualifications in Level 2, 3 and 4 of the Association of Accounting Technicians (AAT). If you are successful with passing all your exams, you can move onto the traineeship and study towards your professional papers with the ICAEW Chartered Accountant qualification (ACA). Knowledge gathered from the working environment is fantastic, you're able to put your learning from college into action, which gives you a more understanding of the accounting systems.
From the first day I started my apprenticeship, my colleagues at the Wales Audit Office have been so helpful. If you are struggling to understand the work, everyone is approachable. I have been told 'no question is a stupid question'. I have gained good relationships with my audit teams and especially with the other three apprentices.
In my first 6 months, I have worked on multiple audits. These have included:
Blaenau Gwent Council Grants and Accounts;
Cwm Taf Health Board; and
Agricultural Funds.
I love that you get to travel and work with many different people on different audits on a day to day basis. I have learnt how to do 'group testing' such as expenditure, payables and payroll testing.
I have travelled to North Wales to do re-verifications and got to see the great views of the North Wales mountains. As a group, we have been to multiple training courses that specialise in our work and are given days each month to go on more training to further develop our skills. The number of holidays is incredible (33 days), with other benefits such as shop and restaurant discounts.
I play rugby outside work for Pontypool RFC, I can fit all training and games around my work schedule. We also have outside activities which I take part in such as 5 a side football if you'd like to join in. My line Manager has been very supportive and has helped me with any needs.
Overall, the Wales Audit Office is a great place to work and I highly recommend the apprenticeship for anyone thinking about applying.
Lewis Ball is a Wales Audit Office Apprentice